Play-Doh
is ageless really. Who doesn't enjoy smooshing a little dough between their fingers once in awhile, shaping it into a pretend anything?
Did you know that in 2000, people voted for their favorite compound Play-Doh colors? The winners were: Rose Red, Blue Lagoon, Purple Paradise, and Garden Green.
I really do love that
Play-Doh
has branched out into colors besides the Primary Red, Blue, and Yellow.
I have to admit I've never been able to bring myself to buy one of the
Play-Doh Playsets
with all the bells and whistles. BUT, my daughter gravitates towards the bright, fun sets every time she has some spending money.
A couple of sets she has purchased include "
Doctor Drill 'N Fill
," (2000 Parent's Choice Award Winner), and more recently the "
Birthday Set
."
I have to say my daughter really does get a lot of use out of the Playsets, BUT something that has been more of a hit is the various mini kitchen tools I've picked up here and there at various thrift stores and flea markets (pictured below):
Pizza Cutter, Meat Tenderizer, Spatula, Stippler, Cookie cutter, Rolling Pin
I'm always looking for something to add to our Play-Doh/Clay Tub. Other favorites are scissors, butter knives, and pan scrapers.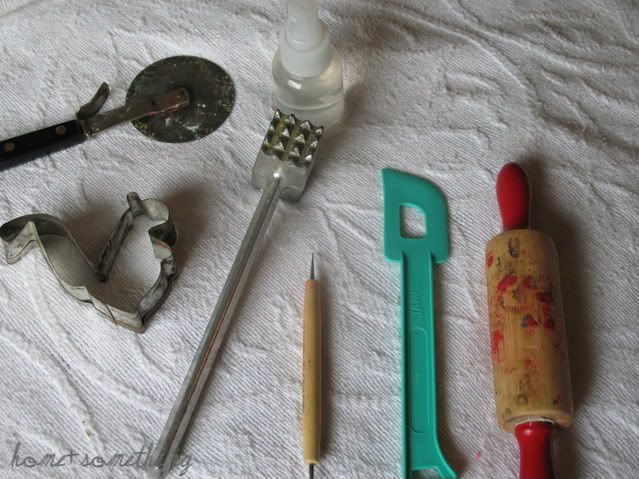 I keep a Dish Pan Tub in our craft closet stocked with tools, dough, and clay so my kids can just grab the tub and bring it all to the table.
When they're done, it all goes back in the tub and back on the shelf.
When the tub starts getting too full to fit on the shelf, we purge dried up dough or tools that haven't been much of a hit for shaping dough.
We have made our own dough on various occasions and had a lot of fun coloring it and playing with the warm "clay." But I have to say, I REALLY enjoy the colors that Play-Doh has available and it really is pretty inexpensive to buy.
Kabs must have worked on this masterpiece for 45 minutes to an hour. The head is from the Play-dough Dentist set and the body is my Pampered Chef bowl turned upside down. Genius, I say!
Check out more fun activites on the Play-Doh official site.
Fresh Ideas
complete with pictoral tutorial. Check out this blueberry pie
HERE
.
Color Mixing Guide
HERE
.
Plan a
Play-Doh Birthday Party
HERE
.
Lesson Plans
for Preschool through 3rd Grade. Check out this "Home is where your habitat is" Lesson,
HERE
.
How do you use Play-Doh, Homemade Dough, or Clay in your home?