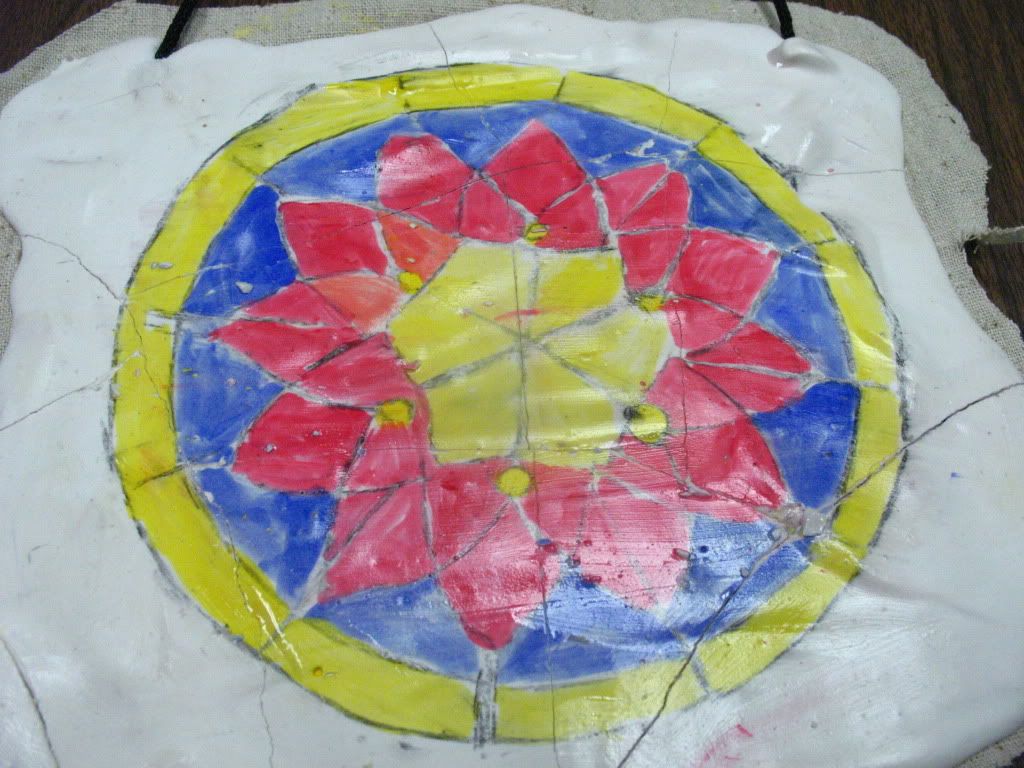 Our Homeschool Coop (Master's Learning Coop) was awarded the
"Picturing America"
Artwork and Curriculum a couple of years ago from the
National Endowment for the Humanities
.
We finally got around to incorporating it into our schedule and I'm the lucky one who gets to teach it! I am actually thrilled! I love this!
This award includes 20 laminated, poster-sized 2-sided prints of American Historical Artwork and a book of lesson plans for each piece of artwork.
I started the first week using the curriculum and after blank stares from my students and their inability to answer key questions at the end, I decided it was time to start teaching this class with a little Stacy-Flare.
Enter Al Fresco Art!
The week's artwork was the
Mission Nuestro Senora de la Concepcion
in San Antonio, Texas (the architecture itself, not necessarily the painting of the structure).
The
Mission Concepcion
was originally covered in white plaster and decoratively painted with Spanish Baroque patterns. This got me to thinking that just maybe we could do a little painting on plaster ourselves to get a little feel for how the original artist created this "Mission Masterpiece."
I immediately started googling to see if this had been done before (why re-invent the wheel?) and sure enough, a fun little art project called "Fresco" which in essence means "mural-type paintings on plaster." Of course, the most famous Frescoes have been done by Michelangelo.
Thanks to a fabulous
tutorial video
from
Dick Blick
, I was able to scale down this undertaking from a large wall to a piece of take-home art. With a few tweaks, a hands-on lesson to learn more about the
Mission Concepcion
was born.

For full instructions, I highly recommend the video mentioned above. Here are my modifications for our specific project:
1. I used fabric I had on hand versus burlap
2. I added a rope "hanger" at the time of pouring the plaster so the artwork could hang on the wall.

3. I found geometric designs by searching for "stained glass geometric."
4. To transfer the design onto the plaster, I traced the design with charcoal, flipped it over and transferred the charcoal onto the plaster by tracing/rubbing the back.
5. I had the students only use Red, Yellow, Blue or any combination of these colors only (the colors used on the
Mission Concepcion
).
I love how each person brings their own personality into their art:

And there you have it! Not only did I personally learn about an important piece of American History (
Mission Concepcion
), but I also learned a new art technique AND a groovy new word that I like to throw around--FRESCO!