I had the blessing of attending a wonderful "Herb & Apothecary" class through our Homeschool Coop this fall put on by Amanda Husmann. I was a bit overwhelmed that first class and thought I might steer clear of diving in to the land of Herbology too much. I've dabbled here and there, but never dove in far enough to do anything other than buy a few fancy-named teas....which I have quite the collection of by the way.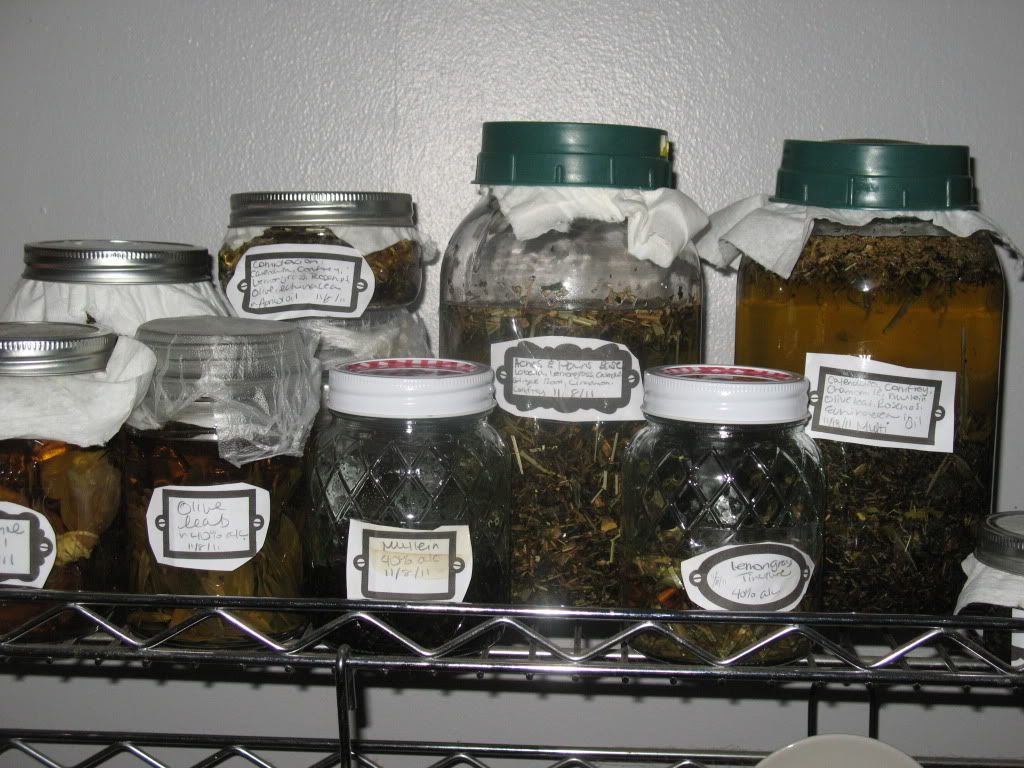 By week eight, inspiration had taken flight within me and I placed my first herb order through our Food Coop. I don't want to give out ALL the details of my herb endeavor ALL at once, so I thought as I experiment and research...I will slowly share my findings and experiences with the wonderful world of herbs. I have several things brewing as you can see in the pictures.
One of the first herbs I have been experimenting with is Cayenne. Yes, the hot pepper Cayenne! Is it an herb, a spice, or something else? Not sure, I just know it is the actual pepper that is dried and ground into powder that is used and I am having fabulous reactions to it!!! (and the Latin name is
Capsicum
)
While browsing through the Bulk Herb Store website, I stopped on Cayenne and read the description. They listed Cayenne as a "staple" to their apothecary collection and I had to know more. Having an uncle who has just gone through having a heart attack, the first use for Cayenne stood out to me right away: It is touted as a necessary emergency herb used at the onset of heart attack or shock. It is a quick-acting herb, lowering blood pressure, increasing circulation, and in general is an excellent stimulant.
Aside from those great benefits, I was attracted to it for it's "warming" qualities. With all the work we're doing renovating our future home, we come home wiped out and sore from head to toe. I've been looking for something natural to massage into my aching body hoping for a little relief! Enter, Cayenne!
More about Cayenne can be found on the
Bulk Herb Store website
, but for now I will focus on what I have used Cayenne for this week.
First of all, I made this yucky looking salve right away. Here's how:
1. Dump some Cayenne powder into a little bowl (a Tablespoon maybe)
2. Cover it with Olive Oil (about 1/4 - 1/2 cup)
3. Stir and cover with paper towel held on with rubber band.
4. Leave to set 8 - 10 hours.
5. Strain as much powder off as possible using a coffee filter or cheesecloth.
6. Dump remaining oil into a sauce pan.
7. Add about 1/2 oz. Beeswax.
8. Heat gently until wax melts and blends.
9. Pour liquid into desired container (in my case back in the original bowl)
10. After it cools and solidifies, it is ready to use.
Now, I wasn't sure what to expect when I first tried the salve so I took a little finger-full and massaged it into one side of my neck. Within a few minutes, I noticed this nice warming sensation at the sight of application. Success! Next, I sludged that salve all over my body, wherever aches and pains were present which is pretty much everywhere at the end of the weekend. I wonderful warming sensation nearly took the pain away and definitely took the chill away that had been present since leaving the unheated renovation project...an added bonus!
So my parents came over a few days later to join in the apothecary fun and I tried the salve out on them right away. I did the one-side-of-the-neck experiment and neither one of them really noticed anything warming. BUT, low and behold, about 20-30 minutes later they were begging me to massage the other side because the massaged side now felt nice and loose and the not-yet-slathered side felt a little stiff. Hmmmmmm....I think it worked!
I would never recommend diving in and covering yourself in this stuff until you've tested an area for sensitivity. My "Herbal Mentor" informed me she blisters with the stuff and my husband complained bitterly about the burning going on for 3 hours after I applied it to his tense neck muscles. He is a bit sensitive, so personally I think it achieved the desired result.
The 2nd use I found for
Capsicum
is in a warming tea. The kids and I concocted what we named "Winter Warmer" tea. The recipe will be for a later blog, but I will tell you I added just a pinch of Capsicum. Afterall, I read that Capsicum acts as a "Catalyst" to other herbs externally and internally. Internally, it aids in digestion, speeds up the antibiotic activities of other herbs, normalizes blood pressure, takes the pain away from sore throats, just to name a few. For lack of more technical terms, it just makes you feel nice and warm...similar to how whiskey burns the back of your throat and gives you a warm feeling going down (so I've heard) ;)
Back to the "Winter Warmer" tea. The kids and I enjoyed a cup-o-warmth and we all broke into a small sweat within about 30 minutes. My lips were a little numb and my throat felt a little tingly. Let's just say, the next batch I added about 1/4 of a pinch and it was perfect!
Last up (wow this is turning into a lengthy blog), I woke up this morning with a sore throat, I quickly flung open the library book I checked out about herbal remedies, went to the index and searched "sore throat", turned to the remedy page, and lo and behold....Cayenne.
This was a fun little experiment as well. The recipe called for Apple Cider Vinegar, Cayenne Powder, and Eucalyptus Essential Oil. I just so happened to have all three ingredients! Here's how I did it:
1. Poured what was left of the ACV into a bowl (about 1/4 cup)
2. Shook 3 dashes of Cayenne into the bowl
3. Added 3 drops Eucalyptus EO into the bowl.
4. Took a cut piece of t-shirt material (a clean rag) and soaked it in the mixture.
5. Placed the rag on my throat/neck while I enjoyed a hot bath.
No joke, the pain relief was nearly instant. Six hours later, the sore throat has not returned.
Some other uses of Cayenne I plan to try include sprinkling the powder in my socks for cold feet, add to my "Vick's Vapor Rub" concoction, and gargle if needed for future sore throat. I don't know how to explain it, but when your body reacts well to an herb, you just know it was made for you. This is one of them for me.
I would love to hear how you've used Cayenne, or if you try it for the first time! Please be cautious using Cayenne with children...but don't rule it out...just start small and test their reaction.
Happy Home Remedy Making!