I guess my 9 year old has caught the bug! She wanted to model her recent thrift store and rummage sale finds. Isn't she adorable? And look how versatile the Rosette Hair Accessory, tutorial
HERE
.
Thrifted Feature: Robot Shirt!!
Thrifted, $1.00
Skirt
Target, bought as a matching set with another shirt
Flip-Flops
Hobby Lobby, $1.00
Hair Accessory, Handmade from scrap fabric from THIS project.

Thrifted Feature: White Knit Jacket
Rummage Sale, $2.00
Black Shirt (actually a skirt) with Satin trim and buckle
Thrifted, $1.00
Knit Stretch shorts with lace trim
These have been part of her wardrobe for awhile
Flip-Flops
Hand-me-down from Grandma
There's that Hair Accessory again!
Thrifted Feature: That Skirt (formally known as a shirt)
Thrifted, $1.00
Black Shirt
Thrifted, $1.00
Cardigan
Thrifted, $1.00

At this point, Kabs was really getting into the modeling and wanted to bring you her Farmgirl Outfit.
Thrifted Feature: Plaid Shirt
Thrifted, $1.00
Jeggings
Target (last year)
Cowgirl Boots
Christmas Gift from Grandparents
Headband
Homemade from T-Shirt Scraps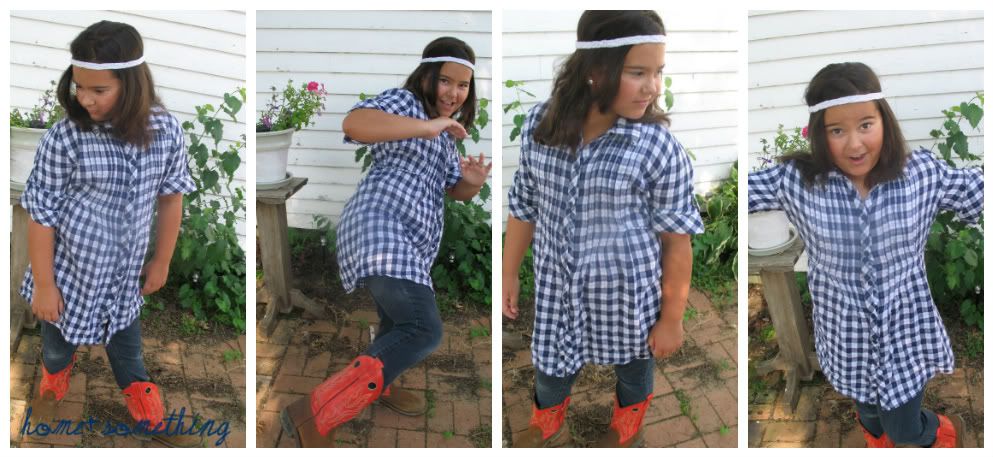 Do you mind that I don't have brand information? I just am out of the habit of worrying about brands and hoping my kids don't take notice anytime soon that brand names might mean anything. I do recognize certain brands hold an element of quality that other brands do not. I try to base purchases more on quality meshed with affordability more than a familiar brand. Hoping to pass that on!
Check out other great Thrift Store finds Here: