Oh my golly sakes alive did we do some great rummaging this weekend!
With my babe and both kids occupied, me and Anj went to the city (that's what us rural folk call the town 30 miles away we have to travel to for pretty much anything besides gas, milk, and a movie rental) to hit some garage/rummage sales.
Normally, we're volunteering at the New Image Thrift Store, or sitting with our dementia patient on a Saturday morning.
But NOT this Saturday!!
We piled our finds in the back seat of the car, taking advantage of not having backseat passengers and being too lazy to manually pop the trunk with the key.
What did we find, you ask???
Well, that my friends, is what we will show you in the weeks to come.
For starters, look at this outfit Anj concocted all by herself. The pants are the only Rummage Sale find,
but if you had ANY idea what a big deal this outfit is, you'd be proud too!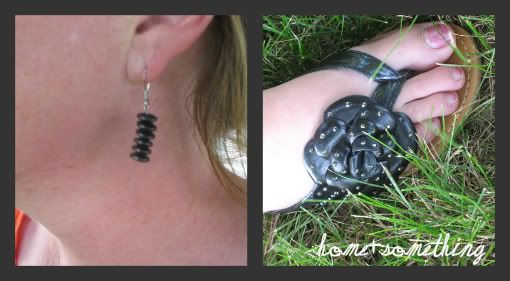 You see, Anj has completely made a 180 in life and the modest clothing element has been a teensy bit frustrating. Not DRESSING modestly...but FINDING modest clothing that fits, is stylish, is practical for an active life, and affordable. This $15.00 outfit "fits" the bill.
What do you think? Doesn't she look lovely?
Earrings: Made by Anj (they are magnets)
Shirts: Rue21 (2 for $7.00)
Knit Capri's: Rummage Sale ($2.00)
Flip-Flops: Deb's ($6.00)