I found this delicious and quick recipe awhile back and finally got around to using it.
I could't pass up this colorful purple variety of cauliflower (regular colored cauliflower can be used) I found at the grocery store.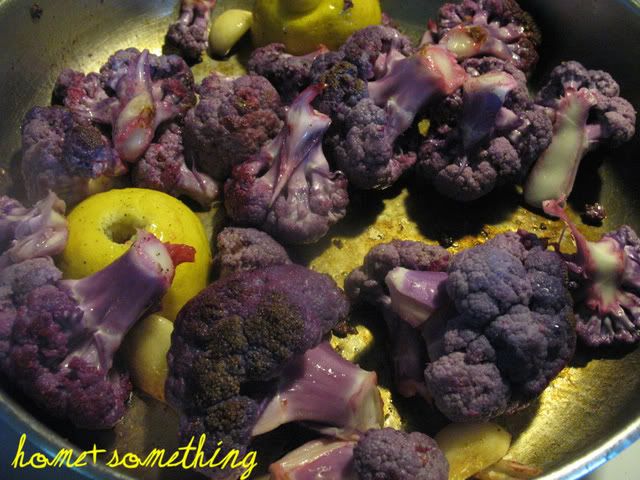 Ingredients:
1 Head Cauliflower
2 Cloves Garlic
1 Tbs Coconut Oil
1 tsp Nutmeg
S&P to taste
Directions:

1. Preheat Oven to 400 degrees.
2. Seperate Cauliflower Head into individual bunches, rinse nd set aside.
3. Heat Coconut Oil in skillet over Medium/High Heat until melted.
4. Add Cauliflower to skillet,coating with melted Coconut Oil.
5. Squeeze juice from lemon over cauliflower, slice lemon in half and
place flesh side down in skillet.
6. Add Nutmeg, Salt and Pepper.
7. Stir over heat and when Cauliflower begins to brown a bit, add pressed garlic. Saute until garlic browns but doesn't burn.
8. Remove from heat and place in a greased (olive or coconut spray) baking dish.
9. Bake for approximately 30 minutes or until Cauliflower is tender enough for a fork to easily insert.
Serve with anything and enjoy a Home Cooked meal!!