An old friend of mine once told me I could have as many if not more opportunities to reach out to people without having a degree as I could if I pursued a degree in say, counseling.
I was one day away from enrolling as my babe and I listed out the pros and cons (something we always do when being faced with life-changing decisions) of taking classes while he finished his degree in Preaching and Evangelism.
It seemed that every wife on campus was picking up some classes, and it was the perfect time (living on campus and all).
As we listed the pros and cons, it became clear that pursuing a degree was just not at the top of God's priority list for us at that time.
My friend's encouraging words confirmed it in my soul.
Those timely spoken words have proven themselves time and again. Our family has had countless opportunities to "reach out" to many people who may never consider a visit to a counseling office in a conventional way.
We've never pursued adoption or foster parenting. I can't speak for my babe, but I attribute it to a "knowing" that we wouldn't meet the criteria any agency would expect of a family wanting to love a child. Maybe we wouldn't be able to handle the "stress" of home visits and psychological testing.
Don't get the wrong impression. Nothing weird is going on at our house, sometimes things are just a little emotional and chaotic.
I do lose my temper at times, expect my kids to fend for themselves when I'm engrossed in something, demand perfection at times, and just go a little crazy if the house is getting beyond nasty.
My husband gets a little grouchy when he has too much to think about, he expects respect, and is no-nonsense at times. I'm afraid these things might put us out of the running for "Family of the Year."
Regardless of what the rest of the world thinks, God has still found us worthy of helping along a few people here and there. For that I am thankful. Why wait for an agency or degree to dictate whether or not you can reach out? Use your home, talent, passion for each opportunity He brings your way.
We don't have a beautiful or large home, never have. But God has brought many people along who don't seem to care about having their own guestroom or own bathroom for that matter.
This week, we were blessed to have this beautiful girl stay with us while her mom got a little extra care.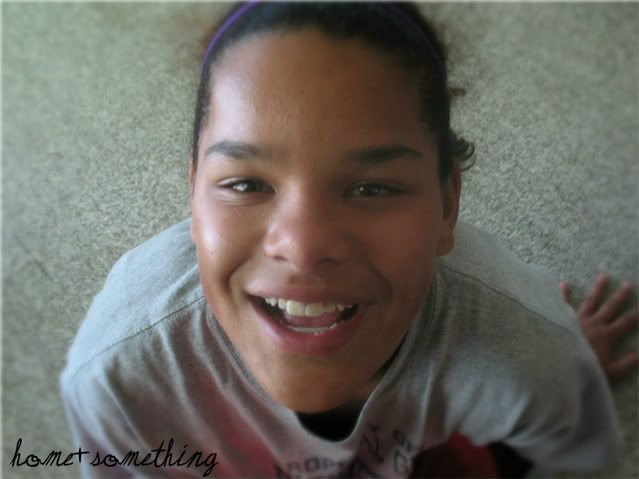 post and picture published with permission of her mom
She was happy to sleep in the living room and pick up some chores with our kids. My daughter will always see her as a big sister now. They practiced pitching, played with playdough, and sang karaoke.
God took a worried little girl and put a smile on her face during the storm in her life. And He used an imperfect family to reach out and provide a refuge for her in their home.
Psalm 126:6
The Message (MSG)
...So those who went off with heavy hearts
will come home laughing, with armloads of blessing.
I'm linking up to "A Wise Woman Builds Her Home." Go check it out: