Leaving off from last week's Master Bedroom Nook, I bring you the rest of the Master Bedroom in my parent's beautifully restored Victorian Home.
My mom is such a thrifty shopper. The bedspread and pillow on the right on this master bed were thrifted. The Eastlake Head/Footboard were found as part of the three-piece set in this room at an antique shop in Okoboji, Iowa. Isn't it beautiful (in spite of the poor photo)?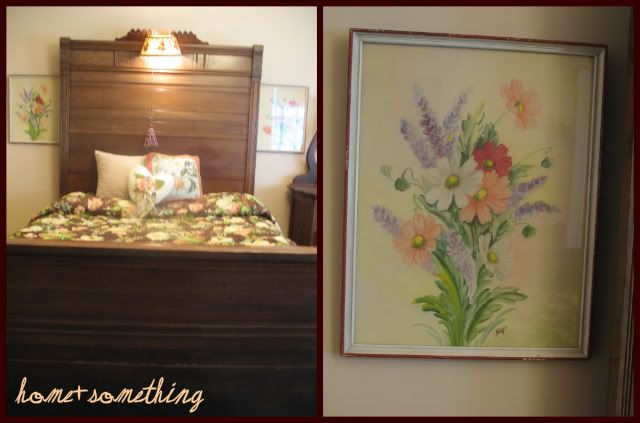 I love how almost every piece has a story. The third piece in the East Lake set: lady's dresser adorned with a three-piece vanity set gifted by my grandmother, homemade soap named after my mom once sold at my brick & mortar, "The Funky Junk Storehouse," a thrifted vase, and a Scentsy pot.
To the left of the lady's dresser, an antique picture with a large wooden cylinder storage container with lid below decoupaged and painted as a gift from my grandmother, Vi.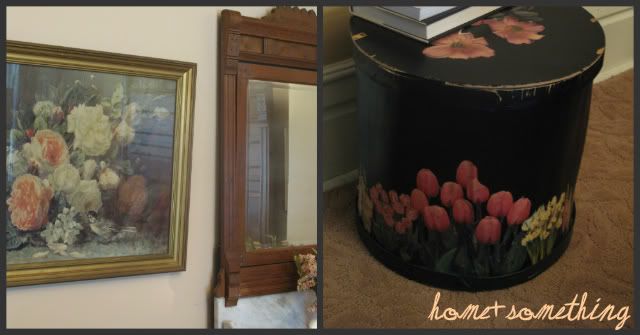 To the right of the bed, the Master's Dresser, a family heirloom belonging to my Grandfather, Lloyd. Lovely thrifted items include leather shaving straps, shaving mug and brush.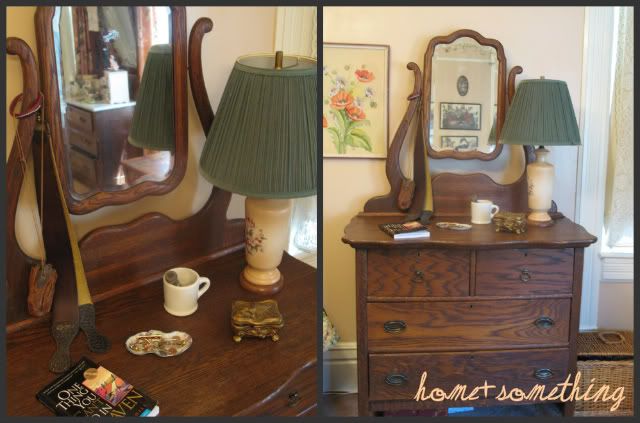 The South wall: A replica armoire serves as a closet for my dad, on the wall is a beautiful cross stitch picture made by my grandmother. The cedar chest belonged to my mother's "Grandma Mossum", her kitty Leira joins the photoshoot. Pink floral curtains are thrifted.
At the foot of the bed, a footstool saved from an auction of her friend, Nancy Flemming. Many thrifted items on this antique end table. A beautiful antique chandelier.