This week's Bubba Logic from my 12-year old (aka Bubba):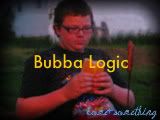 This week's logic is more a language than logic. But it does make logical sense. He's been creating his own celebrity slang:
"Schwarzeneggers" aka "Shorts"

I need to put on some Schwarzeneggers for basketball practice.
"Shaquille O'Neill" aka "Shack"
I need to get some batteries at Radio Shaquille O'Neill.
"Keyshia" aka "Ketchup"
Please can you pass the Keyshia and mustard?
My HOME-eez are the coolest.